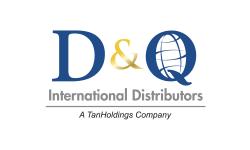 MERCHANDISER
2020-03-19 D&Q CO. LTD 267 GUERRERO DRIVE TAMUNING GUAM
Description:
An international wholesale distribution company is seeking personable and professional applicants for the following position to begin their career with us!
MERCHANDISER
This position will report to the Sales Manager and requires:
Must be detail-oriented with good organizational skills.
Must have excellent verbal and written communication skills.
Must be dependable and reliable.
Must have a vehicle and a valid driver's license.
Prior experience in stocking a plus, but not required.
The ideal candidate will possess the ability to work independently and in a team setting to achieve the company's goals.
Dickerson & Quinn is a manufacturer's representative and wholesale distribution company that offers its employees a comprehensive benefits package including paid holiday and vacation leave, bonus program, medical, dental and disability coverage plus optional life insurance.
NO PHONE CALLS PLEASE. Pick up applications at 267 Guerrero Drive, Tamuning (After Grand Prix Racing, before Guam Automotive Clinic; across CTSI).
Dickerson & Quinn Is an Equal Opportunity Employer
Do not contact this company in solicitation of any product or service.